Poland protests: Thousands rally against court changes

Europe Europe Poland protests: Thousands rally against court changes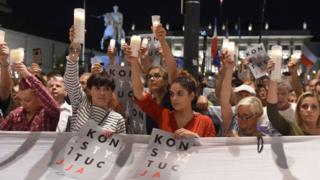 Thousands of protesters have rallied in central Warsaw chanting "Shame!" after Poland's president granted the nationalist government more power over court appointments.
Many held candles and pens symbolising President Andrzej Duda's readiness to sign the controversial legal changes.
It is now easier for the government to appoint a new Supreme Court chief.
In an unprecedented move, the EU Commission is investigating Poland for allegedly undermining the rule of law.
Many Poles and human rights activists accuse the government of politicising the judiciary, weakening its independence.
Reute rs news agency reports that police used pepper spray during some scuffles outside the presidential palace in Warsaw.
Protests also took place in more than 20 Polish cities and towns on Thursday evening against the ruling Law and Justice (PiS) party's court reforms.
The PiS argues that Poland's judiciary was not properly reformed after the end of communism in 1989 and that the courts need to be fairer and more efficient.
For more than a year there have been "Chain of Lights" demonstrations demanding judicial independence.
Extradition blocked
Under the PiS shake-up of the judiciary, about one-third of the Supreme Court's 73 judges have been forced to retire early.
But the Supreme Court chief justice, Prof Malgorzata Gersdorf, has refused to leave her job.
Top Polish judge defies retirement law
EU steps up Poland row over judges' jobs
The EU's top court, the European Court of Just ice (ECJ), on Wednesday backed the European Commission's criticism of the Polish reforms.
The ECJ accepted an Irish judge's argument that a Pole should not be extradited to Poland if his right to a fair trial was in doubt.
A European Arrest Warrant was issued for the Polish suspect, accused of drugs offences, but the Irish High Court feared the case could be compromised by a lack of judicial independence in Poland.
The ECJ ruling provides a legal basis for EU countries to reject Polish arrest and extradition warrants.
Top Stories
North Korea returns US war remains
Relatives of missing soldiers have waited years to be reunited with the remains of their loved ones.
27 July 2018
Trump 'knew of Russia meeting' says Cohen
27 July 2018
Over 700 children not reunited by deadline 27 July 2018
Features
Why wildfires are breaking out in the 'wrong' countries
Custody battle after Briton's Shanghai murder
Video
How the news splits America
Can Imran Khan change Pakistan?
Quiz: What is 7pm the peak time for?
BBC Culture: The Bond film that was never made
The outbreak killing babies in Australia
Older mothers: Brigitte Nielsen baby at 54 sparks debate
Confessions of a smartphone addict
Elsewhere on the BBC
Lyrics quiz
Have you been getting these songs wrong?

Full article Lyrics quiz
Feeling hot
What happens to your body in extreme heat?

Full article Feeling hot Why you can trust BBC News
BBC News Services
On your mobile
On your connected tv
Get news alerts
Contact BBC News
Source: Google News Poland | Netizen 24 Poland